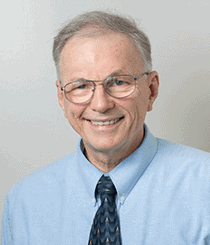 After graduating from the University of Illinois School of Dentistry in the top 15% of my class, I went into a rotating internship at Ireland Army Hospital in Fort Knox, KY for one year.  Here I rotated through all the specialties (such as periodontics, oral surgery, fixed and removable prosthodontics, endodontics and orthodontics)  – learning from some of the top solution-oriented specialists in the country. During that year, I became the "TMJ dentist" of Fort Knox where I treated 45 patients.  I wrote a thesis on the contributing causes of symptoms that make up the TMJ disorder/syndrome.  Back then the understanding of the influence of the stress system and how its hormones changed the body chemistry profoundly was in its infancy.
To this day, this has formed a foundational understanding of how to treat patients with TMJ or compression disorders though my way of treating has been greatly improved in effectiveness and simplicity.  This one-year internship prepared me for my next three years in the army where as the sole dentist at 7th Field Hospital in Tokyo Japan I performed any needed specialty procedures.  I finished my final year of Army service as the sole Army dentist in Chicago, IL at the U.S. Coast Guard Facility.  My professional experience in the Army is where I got really excited about all the phases of dentistry.  My skills were developed along with my understanding of patient needs.  This allowed me to create integrated treatments because I understood specialized dentistry and what could be done. My practice is full-service, holistic and quality oriented so I can help most patients with complex dental or health related problems without having to refer them to specialists.  This saves money and time for my patients.
After leaving the Army, I opened my practice in Indianapolis, IN and continued my professional development through taking many courses in implants and traditional orthodontics with Dr. Dick Donovan, DDS, who was one of only two PhD orthodontists at that time.  Eventually I got into more body friendly, functional orthodontics that was non-extraction work, which took advantage of the growth and development of the arches.  Pioneers in this work were Dr. Witzig and Dr. Truit among others.
I have an open mind and can easily think outside the box.  I have a life-long fascination in understanding what creates illnesses in the body as well as how people can heal and stay well.  Also, because of the many profound and life changing experiences I have had over the past decades from pursuing spiritual truths and practicing meditation and yoga, I naturally started studying many alternative and holistic techniques that are more biologically friendly and life energy enhancing.  A big breakthrough came with learning about Dental Kinesiology. Through the many courses I took with Drs. George Eversual and Versendal's, I learned how to access the body's intelligence.  This has been a tremendous aid in doing treatments safely that the body can accept and use to improve and get well.
The energy work I use has come from several renowned holistic doctors over the many years.  Important doctors in this area who have taught me are G. Eversaul PhD, R. Versendal DC, K. Yuen DC, Harold Smith DDS, J. Tennant MD, and W. Schmitt DC.  They have all enhanced my ability to do energy work to help me with my patients – especially with my TMJ patients.
Video: Meet Dr. Hatland
With my passion for learning about new innovations and insights, I have easily taken over 5,000 hours of professional education in traditional dental and holistic courses over the years, and I am an active member of the Holistic Dental Association (HDA) and the American Dental Association (ADA).   Below gives a snapshot of my primary dental and holistic practices:
Periodontics: Over the last 12 years, I've independently developed a unique and remarkably effective reverse gum disease program that can wipe out gum disease infections and 5-13mm diseased gum pockets shrink 2-8mm without surgery.  This unique program has saved many previously hopelessly diseased mouths and also given a practical way for my patients to keep their teeth and/or implants and to maintain optimal health in the gums.
Compression disorders (i.e. TMJ disorders, clenching and nighttime grinding, headache disorders): My treatment of patients with painful and debilitating compression disorders has been highly successful.Patients who clench and grind their teeth are overly sensitive to bite discrepancies (i.e. big or little).  Patients have developed an unconscious stress-system habit of grinding and clenching to "fix" their bite, which of course only makes things worse.  The more there are unresolved stress issues the more the patient will use these habits.  Remember it is the stress systems' job to deal with anything in the body it interprets as wrong or threatening.The intra-oral appliance I use gives my patients a "perfect" bite – from the body's point of view – and magically begins to turn off the stress systems' desire to clench and grind within hours or days.  As the muscles relax the "perfect" bite changes and needs to be perfected again at subsequent visits until all of the muscles are non tender and relaxed. The appliance is comfortable and easy to wear allowing the muscles to relax naturally.  Pain and tension in the mouth starts melting away and patients get more rest out of their sleep.  The energy work I do along with the appliance reduces the energy supporting the negative habits and shortens the treatment time by months.  Because the occlusion (bite) is always off from its ideal, with my way of relaxing the muscles we can easily discover what the patient's ideal bite needs to be. Previously treated patients find this approach very gentle and easy on them compared to TMJ treatments offered by other dentists.
Mini-implants: In my current practice, I also put in mini-implants, which are approximately half as expensive as fuller-size implants with almost no surgical trauma.  They are very effective with no or very short wait time for full use in the mouth.
Zirconium implants: These have no metal and have the advantage of being the highest biologically friendly material available.
Orthodontics: In the last three years, I have been using Dr. Anthony Viazis' ingenious Fast-Braces® orthodontic system that cuts down traditional treatment time to a year or less.
Fillings: I only use the more biologically friendly composite materials that contain no mercury or silver. For patients who are very allergic will test each dental material in my office and/or have Clifford Lab do the testing for compatibility.
Endodontics: When necessary and appropriate, I use a Biocalex sealer called Endocal that has calcium oxide and zinc oxide for its active ingredients. The Endocal penetrates into the fine tubules of the root, killing bacteria and dissolving any organic material. Thorough cleansing and sterilizing of the root canals is performed using NaoCl and EDTA and laser.
Fixed prosthetics: Porcelain fused to high noble metal or metal free zirconium crowns and bridges are offered.
Associations:
American Dental Association
Indiana Dental Association
Chicago Dental Society
Indianapolis District Dental Society
Holistic Dental Association
Awards:
Dentist of the Year, Consumer Business Review: 2003-2005
Strathmore's Who's Who Professional of the Year – 2012
American's Top Dentists
American Outstanding Professional – Lifetime Member