For decades, Dr. Raymond G. Hatland has served families in the Chicago and Indianapolis areas with holistic, gentle dental care. He uses modern, conservative procedures, and focuses on securing oral balance for complete dental harmony and overall health. With a focus on you, he can make dental visits more comfortable and rewarding than you ever imagined possible. To schedule an appointment with Dr. Hatland, contact our dental practice in Chicago, IL or Indianapolis, IN today.
About the Office
Our Chicago dental office is located in beautiful West Rogers Park on a pleasant, treed boulevard. We are on the ground floor of a professional mall, and our office is wheelchair accessible. You will also find ample parking that is convenient and free for patients. When you enter our practice, you will receive a warm welcome and can feel at ease in our inviting atmosphere. A large bay window allows light into the whole office, so the ambiance is clean and fresh. Additionally, every treatment room features a television for your convenience. Our Indianapolis location offers many of the same amenities, as well as our caring and compassionate staff.
Virtual Chicago Office Tour
About Our Unique Approach
Dr. Hatland strives to provide quality one-on-one time with each of his patients. He is dedicated to treating patients with comprehensive, holistic dentistry to optimize and improve overall health and quality of life. Our team also seeks to provide gentle, professional care, and to listen to all of our patients' concerns and expectations. We strive to always give complete explanations and answers to questions. We believe in educating all of our patients, and helping them understand their oral health and treatment options, so they can make informed decisions.
Dr. Hatland also appreciates the challenge of complicated cases, as well as treating patients who have not found successful treatment elsewhere. He has a passion for helping people and making a difference in their lives. In addition, he has found that caring about his patients, and not just their procedures, is the best approach to achieve trusting relationships. For example, instead of only providing expensive treatments for periodontal disease, Dr. Hatland teaches patients how to properly clean their teeth and gums at home. As his patient, you will become part of your own treatment plan. This approach yields optimal results, with minimal financial expense – a combination for a great dentist-patient relationship.
About the Staff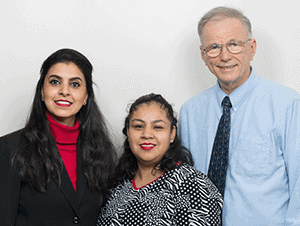 We are a caring, compassionate team who always put our patients' best interests first. Our staff members have supported Dr. Hatland, and served our patients for years. We are sincere and friendly – as well as highly trained, and eager to share our knowledge. You will always receive personalized care from the entire team. We know how to complete our jobs with professionalism and integrity, yet we appreciate friendliness and fun interaction with our patients.
Our aim is to build lasting relationships based on trust and respect. We will work with you to develop treatment plans that fit your unique goals and needs, as well as your budget. We care more about your family's oral health than our own financial success. To find out what our current and previous patients have to say, read some of our testimonials.
We Want to Meet You
If you want a caring, compassionate dental team that believes in holistic, conservative treatments, we want to meet you. Contact our Chicago or Indianapolis offices today to schedule an appointment and join our dental family.