For those patients whose mouths warrant an extensive amount of work, Dr. Raymond G. Hatland may suggest full mouth reconstruction. This overhaul usually combines several dental procedures like crowns, bridges, inlay/onlays and implants to restore a healthy mouth. Dr. Hatland will use the best techniques in his deep arsenal to provide his Chicago and Indianapolis patients with teeth that are not only beautiful but functional as well.
Why Patients Need Full Mouth Reconstruction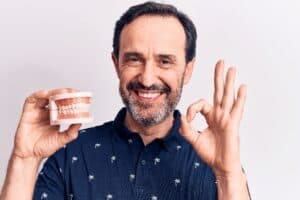 Situations that make someone a good candidate for full mouth restoration include:
Involvement in a serious accident that has resulted in the loss of or damage to many of their teeth
Periodontal disease that has made it difficult for teeth to stay in the gums
Genetic disorders that make the teeth especially susceptible to decay
Inadequate brushing and flossing habits that have left the teeth in bad condition
Regardless of the reason, Dr. Hatland treats every patient with dignity and compassion. He is happy to use his expertise to restore his patients' smiles.
Full Mouth Reconstruction Details
As each full mouth reconstruction is customized to the needs of the patient, Dr. Hatland cannot fully outline how the procedure(s) will go without first examining your mouth. Some patients will need to have every tooth replaced, while others may need to hang on to their healthy teeth so they can be utilized for the optimum solution.
Procedures that Dr. Hatland incorporates into full mouth reconstruction include bridges, dental implants, crowns, veneers and dentures. Your own input and budgetary restrictions will help Dr. Hatland determine which procedures are best for your full mouth restoration.
You can expect the entire process to play out over several weeks, at least, as most procedures involved in full mouth reconstruction require multiple appointments. Dr. Hatland and his team will work out a schedule that is convenient for you.
Benefits of Full Mouth Reconstruction
Patients who need full mouth reconstruction are usually thrilled to have a complete, attractive smile again. Not only does their self-confidence increase, but they usually notice an improvement in their social and professional opportunities.
In addressing so many problems simultaneously, full mouth reconstruction can also do wonders for your oral health. Having replacement teeth also helps to maintain the structure of your jaw.
There are also financial benefits. For example, patients often save money by replacing the totality of their teeth at once rather than gradually fixing several decaying teeth spread out over multiple procedures. Dr. Hatland's staff will work with patients to fully utilize the benefits of their dental insurance so that out-of-pocket costs are kept as low as possible.
Pick Dr. Hatland for Full Mouth Reconstruction
Given that full mouth reconstruction is a massive undertaking, you should choose a dentist who has not only the skills to do the job well, but also a warm, professional disposition that will keep you at easy during the procedures. Whatever the condition of your mouth is currently, Dr. Hatland will come up with a solution that allows you to show off a beautiful smile soon.