Straighten Your Teeth with Fastbraces®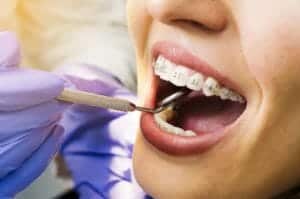 A misaligned smile can impact your confidence and affect your oral health. However, many adult or child patients are hesitant to undergo orthodontic treatment because of the time and cost involved. Fastbraces® is an innovative option for patients who want straighter teeth and a more beautiful smile, but do not want to wear traditional braces for two years. The Fastbraces® technology brings a holistic way to do fixed orthodontics. This high-tech treatment is designed to provide results faster, more comfortably, and more economically than traditional orthodontics. As an authorized Fastbraces® dentist in Chicago, IL and Indianapolis, IN, Dr. Raymond G. Hatland can often use this treatment to correct even severe bite and alignment issues in as little as nine months. Less severe cases can be done in three to six months. If you would like to learn more, schedule an appointment with us today. There is NO other fixed braces technology that can perform like Fastbraces®.
"I have been successfully doing traditional fixed and functional orthodontics for over 35 years, but nothing compares to the quantum leap Fastbraces® orthodontics has brought to this specialty. It is truly a space-age advancement to orthodontics with patient and benefiting greatly."
What Fastbraces® Can Do for You
Fastbraces® provides significant benefits similar to those of traditional orthodontics, including correction of:
Gaps
Misalignment
Crowding
Malocclusion or bite issues
Rotated teeth
Cosmetic issues such as gaps and misalignment may not cause any health or functional issues, but these irregularities can affect your appearance and self-esteem. Crowded and overlapped teeth, however, can make proper brushing and flossing difficult, creating an ideal location for bacteria and plaque to accumulate. This can lead to decay that damages the structure of the tooth, chronic bad breath, and severe oral discomfort.
Can Braces Fix TMJ?
An unbalanced bite can lead to significant oral and overall health problems. Malocclusion can lead to teeth grinding, which causes teeth to become worn, damaged, and broken. Improper jaw alignment can also cause jaw joints and facial muscles to become strained, leading to major issues such as TMJ, or temporomandibular joint disorder. Fastbraces can effectively fix TMJ and treat similar issues to give you the healthy, beautiful smile that you have always wanted.
Fastbraces® begin aligning teeth properly from the very first treatment, and continue to align your smile more effectively than traditional braces. This efficient approach can take mere months, rather than years.
How Fastbraces® Work
Like traditional orthodontics, Fastbraces® brackets fit on the front surface of teeth, and a wire is threaded through the brackets. However, Fastbraces® uses triangular metal or esthetic porcelain brackets that hold a specially designed super flexible square wire. This patented wire and the innovative shape of Fastbraces® brackets allows more power to be exerted holistically to the entire root surface, not just to small destructive and painful hot spots like traditional braces. This approach replicates the body's natural eruption process and can actually grow bone as it repositions the entire tooth at once with little or no pain for my patients. Fastbraces® begins aligning and erupting teeth properly from the very first treatment appointment, and continues to align your smile more effectively than traditional orthodontics. This efficient approach can take mere months, rather than years. There is NO other fixed braces technology that can perform like Fastbraces®.
Benefits of Fastbraces®
Many patients choose Fastbraces® over traditional braces because of a number of important benefits:
Shorter treatment time
Fastbraces® orthodontics can straighten teeth in certain cases in less than a fifth of the time of traditional braces. Treatment typically takes only five up to nine months instead of two years or more. The shorter treatment period also requires far fewer visits to our office for checkups and adjustments.
Comfort
This innovative technology reduces friction from moving teeth, and even patients with sensitive teeth report little to no pain, and minimal soreness after adjustments. Additionally, any discomfort is significantly reduced because of the shorter overall treatment time.
Fast Braces® Cost
Fastbraces® are a revolutionary orthodontic treatment that can provide you with straight teeth and a beautiful smile quicker than traditional braces. Due to the length of the treatment, fewer office visits are required, which means less expense. Schedule a consultation with Dr. Hatland for a personal consultation to receive a price estimate.
Why Straight Teeth Are Better for Your Oral Health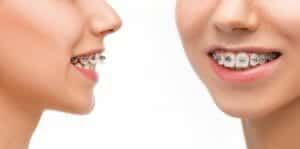 Not only are straight, properly aligned teeth more visually appealing than crooked, crowded or gapped teeth, they are also better for your oral health. It's much easier to brush and floss straight teeth, reducing your risk of cavities, gum disease, bad breath and other oral health problems. Your chances of needing time-consuming dental work down the line to address cavities or gum disease are greatly reduced.
When your teeth are straight and aligned, the gum tissue can "hug" your teeth tightly without forming little nooks, crannies and pockets in which bacteria can accumulate and lead to gum disease. And based on a growing body of research, lowering your risk of gum disease may also reduce your risk of systemic health problems like heart disease, stroke and diabetes.
Straight teeth also fit together properly, avoiding bite problems that can cause jaw pain and discomfort when biting or chewing. When the teeth are properly aligned, the risk of problems with the jaw joint (a.k.a., the TMJ) is reduced. Teeth that are in the correct alignment are less likely to develop premature wear and tear on the enamel, and less likely to chip, crack or break.
Straight teeth are good for other aspects of your health, too — such as your mental health. Having a beautiful smile can improve your happiness and confidence. It might make it easier and more comfortable for you to build relationships, make great first impressions, advance your career and try new activities outside of work.
A Healthier, More Beautiful Smile in Less Time
Have you avoided braces because of lengthy treatment time or significant cost? We can provide the orthodontic treatment you need quickly and affordably. To find out if you are a good candidate for Fastbraces®, schedule a consultation with Dr. Hatland today.