Lifelike, Lightweight, Comfortable Dentures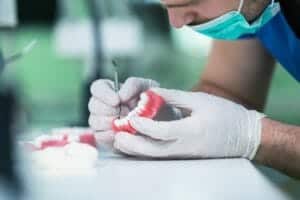 Dentures are removable appliances intended to restore normal oral function, a natural appearance and the comfort that comes with having a full set of teeth. In the past, dentures were often thought of as being bulky, ill-fitting and artificial-looking. But today's dentures are lifelike, lightweight and very comfortable. They closely resemble natural teeth and quickly restore the ability to bite and chew properly.
If you're exploring your tooth replacement options, Dr. Raymond Hatland is happy to provide more information about dentures during an in-person consultation. After learning more about your needs, he can recommend whether dentures or another solution is the right fit for you.
Full versus Partial Dentures
Some dentures are designed to replace all of the teeth, whereas others replace only a few teeth.
If you are edentulous, or toothless, you could benefit from full or complete dentures. Composed of artificial teeth attached to a pink plastic base, lower dentures rest on your gums and upper dentures cover your upper palate. They are held in place with special adhesive products.
Partial dentures can replace some but not all of your teeth. They rest on the gum tissue and attach to the remaining teeth in your mouth.
Dentures have historically been removable; they had to be removed and soaked in special solution at night. Nowadays, many people elect to secure their partial or complete dentures to dental implant posts placed throughout the jaw. This helps to improve dentures' retention and stability. Implant-retained dentures cannot be removed, except by a dentist.
Design and Placement of Dentures
After Dr. Hatland has determined that upper and/or lower dentures are suitable for your needs, he will take impressions of your gums. This information is used to create your dentures and ensure a comfortable fit. Depending on your case, some remaining teeth may need to be extracted before your dentures can be placed.
The impressions will be sent to the dental laboratory that creates your permanent dentures. Temporary dentures can be placed while your permanent denture appliances are being made, so you do not have to go toothless in the interim.
Once your permanent dentures are ready, you will return for a second appointment. Dr. Hatland will try on the permanent dentures in your mouth and make any necessary last-minute tweaks.
It's common to experience some slight sensitivity and discomfort as you adjust to your dentures. You will need to acclimate to chewing, biting and enunciating clearly. It usually takes a few days to overcome these challenges, and for the discomfort to subside. If your discomfort persists longer than that, you should let Dr. Hatland know.
Dentures should be removed at night, brushed carefully and soaked in a special solution. You must also brush your gums, tongue and palate once you take your dentures out. Occasionally, dentures must be readjusted, relined or replaced. But today's dentures are stronger and more durable than ever, and can last years.
Contact Dr. Hatland
For more information about replacing missing teeth with partial or full dentures, Dr. Hatland invites you to schedule an informational consultation at his Chicago or Indianapolis office. Please call or email us today to book your visit.