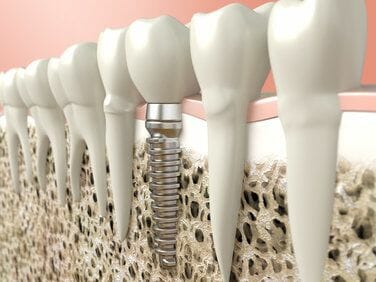 Tooth loss can severely impact your ability to eat, speak, and smile with confidence. Missing teeth can also cause jawbone atrophy and other significant oral and overall health concerns. Dental implants are small posts placed in the jaw to replace lost tooth roots and provide the ultimate support for crowns, bridges, and dentures. Dr. Raymond G. Hatland precisely places dental implants at his Chicago, IL and Indianapolis, IN offices and focuses on providing a perfectly balanced bite that helps preserve the long life of the implant. If you are seeking a permanent solution to tooth loss, contact us today.
Dental Implants: The Basics
Dental implants are small, threaded posts placed in the jaw during an outpatient procedure in our office. The posts will fuse with surrounding bone through a process called osseointegration. The number of implants you receive depends on the number of teeth you need to replace, and the type of restoration you require. A crown is typically supported with one implant, a bridge requires two or more, and full dentures usually require four or more implants.
Dr. Hatland provides both mini and traditional sized zirconium implants. While zirconium is the most bio-friendly material, they are larger, cost more, require a surgical procedure, and require a minimum three month waiting period to load with chewing force. Mini implants, on the other hand, are typically more affordable, and can be placed with innovative non-surgical techniques, often allowing us to provide same-day restorations.
Achieving Harmony with Dental Implants
Occlusion, or the way the upper and lower teeth meet, is more important to overall health than many realize. When the bite is not properly aligned, patients can experience a chain reaction of painful symptoms including facial pain, back pain, and headaches. When placing dental implants, Dr. Hatland's goal is to not only replace missing teeth, but also restore proper balance to the bite. Under his care, you may find that you not only experience a restored smile, but also a vast reduction in jaw discomfort and other symptoms.
Dental Implant Benefits
Dental implants are widely considered the very best solution for missing teeth because they provide a wealth of important benefits:
Dental implants are the one and only restorative treatment that can prevent the jawbone atrophy (shrinkage) that occurs following tooth loss. They preserve the strength of the jaw and the shape of your facial features.
Implants allow you to eat, speak, and laugh with complete confidence, knowing that your prosthesis will not slip or shift.
Missing teeth can cause your bite and jaw alignment to shift. Dental implants can restore harmony to your bite.
With proper care, implants can last for the rest of your life.
Candidates for Implants
Candidates must be in good oral and overall health. Any issues such as gum disease must be treated prior to implant placement. If you do not have sufficient jawbone tissue, or enough room for implants in the upper jaw, you may require a bone graft or sinus lift prior to receiving implants. Because of their smaller size, mini implants can sometimes eliminate the need for a bone graft. Dr. Hatland will perform a thorough examination and refer you to a trusted surgeon if you require any grafting procedures.
Dental implants are the one and only restorative treatment that can prevent the jawbone atrophy that occurs following tooth loss.
Dental Implants Timeline
Traditional implants are placed in one appointment. Once the posts have been placed, you will spend the next three to six months healing before we attach abutment pieces to connect your restoration to your implants. Mini implants can be placed less invasively, requiring far less recovery time. In some instances, you can receive a restoration the same day as mini implant placement.
Schedule a Consultation
Dr. Hatland can evaluate your oral health, discuss your goals, and recommend the best tooth loss treatment for your needs. Reach out to our office today to schedule a consultation.