Reclaim a Healthy, Functional Smile with Restorative Dentistry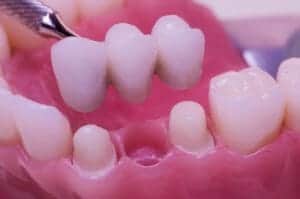 Practicing good oral hygiene and seeing a dentist regularly may reduce your chances of developing dental disease, but no one is ever completely immune to dental problems. If you have developed dental decay or disease or suffered a dental injury, a restorative dentist can help you reclaim a healthy, functional smile you can be proud of.
What Does Restorative Dentistry Involve?
Restorative dentistry aims to restore chipped, cracked, decayed or missing teeth to optimal form and function, either by repairing, rebuilding or replacing them. The materials used in restorative dentistry are often tooth-colored, so they can help preserve or restore the appearance of a natural, healthy tooth.
Smile Makeover
A smile makeover, or its restorative counterpart, called full mouth restoration, is the process of combining dentistry procedures to transform the appearance of the smile. Every smile makeover is uniquely customized to the needs of the patient. What that means is that your smile makeover or full mouth restoration will reflect your unique needs, preferences and treatment goals. It could involve any combination of restorative and/or cosmetic dentistry procedures.
Dental Bridges
A dental bridge is a restoration that fills the gap left by a missing tooth. There are several different bridges, each appropriate for a certain set of circumstances. The most commonly used type of bridge consists of a false tooth bookended by two crowns; the crowns are fitted over the natural teeth on either side of the gap, and the false tooth fits into the gap. Other types of bridges, such as the cantilever bridge, can be used where there are natural teeth on only one side of the gap.
Dental Implants
Another popular way to fill the gap left by a missing tooth is with a dental implant. Implants recreate the entire structure of a tooth, from its crown to its root. An implant consists of a titanium rod or screw that is surgically implanted in the jawbone beneath the gap; the top of the rod or screw protrudes from the gumline and is mounted with an artificial tooth. Because implants are anchored in the jaw, they are extremely stable and durable.
Dentures
Dentures are often recommended for individuals that have lost several teeth or all of the teeth in the upper and/or lower jaw. The dental prosthetics consist of artificial teeth attached to a pink plastic base designed to resemble gum tissue. The dentures rest on top of the gums and recreate the look and feel of healthy teeth. Although traditional dentures are removeable, nowadays many patients opt to anchor their dentures to implant posts placed throughout the jaw for added retention and stability.
Orthodontics: FastBraces® and Clear Braces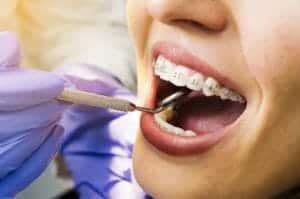 Orthodontic treatment options have advanced considerably in the past few decades. Dr. Hatland uses FastBraces®, a unique variation of traditional metal braces that cut treatment time in half. The system features triangular brackets and flexible square wire, which exert power over the entire tooth as opposed to targeted "hot spots" like braces do.
If you want to straighten your teeth more discreetly, Dr. Hatland also provides treatment with clear plastic aligners, which put gentle pressure on the teeth to shift them into the desired position.
Contact Our Chicago or Indianapolis Dental Offices Today
For more information about restorative dentistry, please contact our Chicago or Indianapolis offices today.