As a family dentist, Dr. Raymond G. Hatland makes a commitment to improving the oral health of all his patients at any age. Members of your entire family — adults, kids and seniors alike — can receive quality and friendly care at his Chicago offices. Best of all, Dr. Hatland performs general, restorative and cosmetic dentistry procedures, allowing you to choose just once dentist for all of your family's dental needs.
Cleanings and Examinations
Twice a year, every member of your family should have a dental checkup to maintain the health of their teeth and gums. While brushing and flossing are essential to keeping your teeth free of bacteria, they are not as powerful as professional deep cleaning. Our hygienists use special tools that reach areas that your toothbrush and floss alone cannot reach, paying special attention to those neglected areas. By removing this dangerous plaque and tartar, you will be at a reduced risk for cavities and gum disease.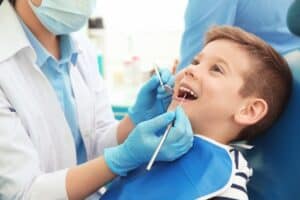 These checkups also serve as an opportunity for Dr. Hatland to search for any problems or irregularities in your mouth. Patients are often unaware that anything is wrong because the symptoms are minor, but Dr. Hatland can spot tooth decay, infections, periodontitis and even signs of oral cancer during his examination.
While it is never great news to find out you have a dental problem like a cavity, you should find comfort in knowing that Dr. Hatland can treat whatever dental or periodontal issues you or your loved ones may have swiftly and expertly, thereby restoring the appearance and functionality of your family members' mouths.
Pediatric Dentistry
The path to having great teeth for a lifetime begins with forming good habits at an early age. The American Dental Association recommends bringing in your child for their first dentist appointment around the time of their first birthday. When you bring kids in early, they are less likely to be afraid of the dentist, which may otherwise cause them to skip essential visits later in life.
Dr. Hatland has a warm disposition and a good rapport with children. He knows how to effectively communicate the importance of brushing and flossing at age-appropriate levels so that your children will develop smart, healthy habits that stay with them forever.
Why You Should Choose a Family Dentist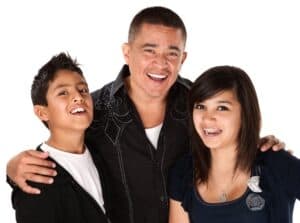 There is certainly a convenience factor to being able to bring your entire family in at one time for concurrent appointments rather than worrying about childcare. Plus, many children love to see how their parents are receiving checkups from the same dentist, and this helps them to take a more "adult" approach to the responsibility of brushing their own teeth.
Dr. Hatland's ability to handle general, restorative, cosmetic and orthodontic dentistry needs for patients of all ages means that you do not have to worry about searching for separate doctors as issues arise. Instead you can put your faith in a single dentist who has earned the loyalty of many patients over the years.
To schedule an appointment for you and/or your kids with Dr. Hatland, please call his Chicago office at (773) 338-4440.