Brighten a Yellow or Stained Smile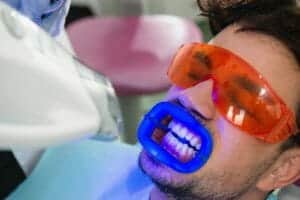 Bright, white teeth are an essential element of a gorgeous smile. If your teeth have become stained, yellow or dull over time, this may detract from what would otherwise appear to be a straight and properly aligned smile.
Luckily, professional teeth whitening with a qualified dentist like Raymond Hatland, DDS, can brighten your dull or stained teeth in an hour-long appointment. Using professional bleaching agents, Dr. Hatland can lift stains and create a whiter smile quickly and comfortably. Whether you have a special event coming up or you want to reverse the effects of aging, teeth whitening can help you feel more confident.
What Does Teeth Whitening Improve?
The teeth can stain and discolor due to a variety of factors, including the following:
Consuming certain foods and beverages (e.g., coffee, tea, wine, food coloring)
Smoking and using other forms of tobacco
Age
Taking certain medications (e.g., antihistamines, antibiotics)
Trauma
Teeth whitening treatment involves applying a special bleaching product containing either hydrogen peroxide or carbamide peroxide, which breaks up stains into smaller pieces. This causes the stains to look less concentrated and your teeth to look brighter overall.
Having a dentist perform your whitening is highly preferable to relying on over-the-counter strips or gels, as dentists are able to use more powerful bleaching agents and lower the risk of sensitivity.
It's important to understand that teeth whitening cannot improve the appearance of all types of discoloration. For example, it is less effective on stains caused by an injury or trauma than it is on stains caused by consuming certain foods and beverages. Dr. Hatland can discuss this in detail with you during a consultation.
Chairside versus At-Home Whitening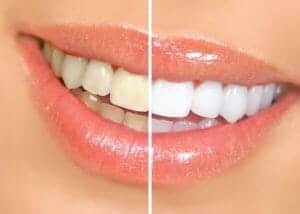 During your teeth whitening visit, your teeth will first be checked to make sure you don't have any areas of decay or disease. We will also determine whether teeth whitening is the best solution for your needs. As mentioned, teeth whitening doesn't work on every type of stain; it also does not lighten restorations like veneers, dental crowns or fillings.
If we decide to proceed with whitening treatment, we will place a special shield over your gums to protect them from the bleaching agent. The bleaching solution will be painted over your teeth and possibly activated with a special light or laser. Once the bleaching gel has sat on your teeth for about 15 minutes, we will remove it and repeat the process two to three times. Having Dr. Hatland perform treatment reduces the chances of you experiencing any uncomfortable sensitivity, because he can control the application and potency of the bleaching gel.
If you'd prefer to whiten in the comfort and convenience of your home, Dr. Hatland can create a customized whitening kit consisting of trays to fit the contours of your teeth and mouth, and the bleaching gel with which to fill the trays. You will also receive instructions for using the whitening kit. With daily use, you will see results within a few weeks.
Contact Dr. Hatland
To book an appointment to discuss teeth whitening with Dr. Hatland, please call or email our Chicago or Indianapolis office today.