A Gorgeous Smile and a Happier You with Porcelain Veneers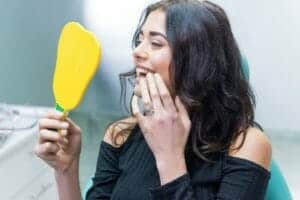 You deserve to have a beautiful smile that you feel confident sharing with the world. If small dental imperfections or flaws in your teeth are keeping you from smiling as widely or as often as you'd like, Dr. Raymond Hatland can help. He offers a vast array of cosmetic dentistry treatments to make over blemished or unsightly teeth and create a gorgeous, bright smile.
One of the treatment options often employed by Dr. Hatland is porcelain veneers. These small pieces of porcelain are bonded to the front of imperfect teeth to improve their appearance. Dr. Hatland's veneers are carefully customized to blend in with the surrounding teeth for a flawless result. They are made from the finest and safest materials available.
What Can Porcelain Veneers Improve?
Veneers are very versatile and can be used to camouflage the following:
Small chips or cracks in the teeth
Small spaces or gaps in between the teeth
Tooth stains or discoloration that do not respond to teeth whitening treatment
Worn teeth
Abnormally shaped or sized teeth (i.e., short or small teeth)
Expertly crafted and placed veneers are virtually indistinguishable from natural teeth. No one will be able to tell you've had cosmetic dentistry — they will assume you were born with a gorgeous and confident smile!
Porcelain Veneers Treatment Timeline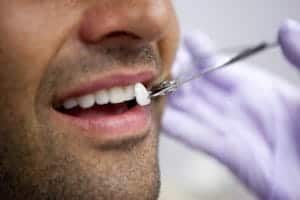 Normally the process to design, fit and place personalized veneers requires at least two office visits. During the first visit, you will meet with Dr. Hatland to discuss what you want to correct and explain what you hope to accomplish. Once the two of you decide that porcelain veneers can help create the results you want, your affected teeth will be prepared for the placement of the veneers. A very small amount of tooth enamel must be removed in order to make room for the veneer to fit within the mouth. Impressions and photographs will be taken and sent to the dental laboratory responsible for creating your customized veneers.
While you wait for your permanent restorations to be finalized, temporary veneers can be placed over the prepared teeth. Wearing these provisional veneers for a few weeks gives you a chance to "preview" your results and offer feedback to help Dr. Hatland fine-tune your permanent veneers.
When your permanent veneers are ready, you will return for a second appointment. The temporary veneers will be removed and Dr. Hatland will try on the permanent veneers in your mouth, checking their fit against your bite. If you are both happy with the way your veneers fit and feel, Dr. Hatland will bond them into place.
Today's veneers are extremely strong and durable. They should last for at least five to 10 years with the proper care and maintenance.
Transform Your Smile With Porcelain Veneers
Porcelain veneers can boost your self-confidence, in turn improving your general happiness and well-being. Imagine the ways the professional and personal aspects of your life will change when you enjoy a dazzling smile and lots of self-confidence!
To learn more about porcelain veneers and how they can help you enjoy the smile of your dreams, Dr. Hatland welcomes you to schedule an informative consultation at one of his offices. Please call our Chicago office at (773) 338-4440 or our Indianapolis office at (317) 257-0794 to book your appointment today.