A Conservative Alternative to Dental Crowns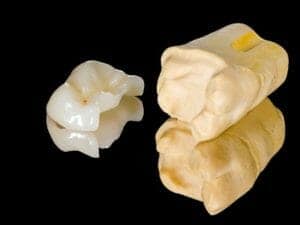 On the spectrum of dental restorations, inlays and onlays are somewhere between a dental crown and a filling. They offer more coverage and protection than a filling but not as much as a crown. Like a crown, they are fabricated in a dental laboratory and then placed during a dental appointment. But they do not encapsulate the entire tooth surface; instead they fit into the tooth, sort of like a puzzle piece, in order to fill the space left after decayed, cracked or broken tooth material is removed. Not only do inlays and onlays strengthen and protect the tooth, but they are tooth-colored to help you maintain a beautiful white smile.
When Are Inlays and Onlays Used?
Inlays and onlays are used to repair teeth that have too much decay or damage to be treated with a filling, but not enough to require the full coverage and protection of a crown. Inlays are used when the damage or decay exists within the center of the tooth; conversely, onlays are used when the damage extends to one or more of the points, or cusps, of the tooth surface.
Inlays and onlays can be crafted from different types of materials. Dr. Raymond Hatland prefers to use tooth-colored ceramic or resin materials whenever possible. Not only are they virtually undetectable when placed on the tooth, they are also "biologically friendlier" than metal or amalgam materials.
Getting an Inlay or Onlay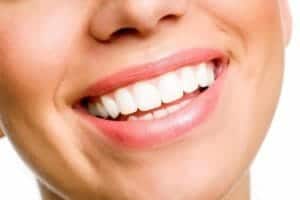 The process of getting an inlay or onlay is like that of getting a crown, except your tooth does not need to be completely reshaped to prepare for its covering. Inlays and onlays allow Dr. Hatland to preserve as much natural tooth structure as possible, which is better for the overall health and longevity of your tooth.
After your tooth has been numbed, Dr. Hatland will remove the decayed tooth structure and clean the tooth in preparation of its restoration. Impressions will be made of the affected tooth and sent to the dental laboratory tasked with creating the inlay or onlay. While your inlay or onlay is being fabricated, Dr. Hatland can place a temporary filling on your tooth to protect it.
Once your inlay or onlay is ready, you will return for a second visit. The temporary filling will be removed and your permanent restoration attached to your tooth. Dr. Hatland will check its fit and ensure it supports a proper bite.
Teeth restored with inlays or onlays can be brushed and flossed like normal and should be checked every six months for any problems. With conscientious home care and regular check-ups, inlays and onlays can last for many years to come.
Contact Dr. Hatland
If you have a cavity or a broken or fractured tooth, you should act quickly to prevent the decay or damage from spreading. It's best to consult with an experienced restorative/cosmetic dentist like Dr. Hatland, who can assess the problem and recommend the solution that is most likely to repair your tooth. To request an appointment with Dr. Hatland, please contact our Chicago or Indianapolis office today.