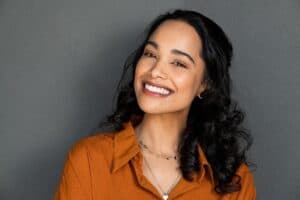 Having a healthy, sparkling white smile is part of an attractive appearance, but you may not be lucky enough to have perfect teeth genetically. Fortunately, Dr. Raymond Hatland, a top-rated dentist in Indianapolis, can perform cosmetic dentistry procedures to improve the aesthetics of your teeth. When you have the kind of smile you always dreamed of, you gain confidence as well as a renewed desire to stay more diligent about your oral hygiene.
Cosmetic dentistry procedures that Dr. Hatland performs include:
Dental Crowns
Teeth that are damaged or misshapen can easily be covered with a dental crown, a cap that fits over the top of a tooth to conceal flaws. Made with porcelain or ceramic, crowns come in many shades to fit in seamlessly with the rest of your teeth. In addition to addressing cosmetic concerns, crowns are often used to strengthen a tooth that has undergone a root canal or to help support a restorative appliance like a dental bridge or dental implant.
Porcelain Veneers
Although veneers are the most expensive cosmetic treatment, they also provide the most dramatic transformation. These porcelain prosthetics attach to the front of your teeth (which are shaved down slightly to fit the veneers). You can pick the precise shape, shade and size of your new teeth to achieve your dream smile. Ultimately, it is your decision whether you want a single porcelain veneer or two to cover up specific flaws or to get an entire row of veneers so that your smile looks bright white and evenly spaced.
Tooth-Colored Fillings
Fillings are an essential treatment after you develop a cavity. Rather than giving you a filling that leaves shiny metal glimmering in your mouth, Dr. Hatland can use a composite resin-based tooth-colored filling that matches the natural color of your teeth. This makes it especially easy to treat and conceal a cavity without it being obvious that you needed a filling in the first place.
Teeth Whitening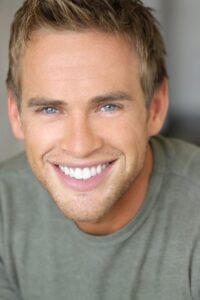 Whitening toothpastes and at-home whitening kits are popular ways to brighten your smile, but they are not nearly as effective as a professional, in-office teeth whitening treatment. In under one hour, Dr. Hatland can make your teeth look several shades whiter. To achieve this, he carefully applies a bleaching solution on the teeth and shines a special light to activate the whitening.
Dental Bonding
Bonding is arguably the easiest solution for fixing imperfections on the teeth because it is a brief, painless treatment. With dental bonding, Dr. Hatland applies resin (mixed to match the color of your teeth) directly on the tooth to cover up chips, cracks, decay and discoloration. It can also be molded to the side of teeth to lengthen them or help fill in excessive gaps. Once the resin has molded to the teeth, Dr. Hatland quickly smooths it out before if completely hardens.
Achieve Your Ideal Smile with Cosmetic Dentistry
To learn more about each of these cosmetic dentistry procedures from an expert, schedule a consultation with Dr. Hatland. After listening to your goals, he can suggest a course of treatment that can most realistically attain those preferences. To reach his office in Indianapolis, please call (317) 257-0794.