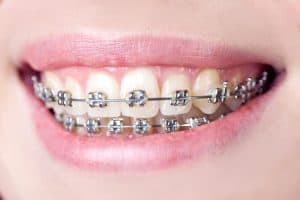 Straight teeth are aesthetically appealing and can make you feel more confident. Plus, they can lead to better oral health and even prevent gum disease.
If you want to have straighter teeth and a healthier, more beautiful smile, you may be considering orthodontic treatments. Perhaps what you have in mind are traditional braces, but there is another option as well: the FASTBRACES® system, which is an innovative, patented, faster, gentler, more holistic approach to orthodontics.
Below, the team at the office of Dr. Raymond G. Hatland discusses the differences between FASTBRACES® and traditional braces.
FASTBRACES® Offers Quicker Results
As the name suggests, FASTBRACES® technology delivers quicker results than traditional braces. Treatment with FASTBRACES® generally takes five to nine months, whereas treatment with traditional braces can take two years or more. After 30 years of doing traditional braces, I completely stopped using that approach once I learned about the FASTBRACES® way of moving teeth to achieve ideal dental function and create beautiful smiles.
FASTBRACES® Uses Unique Materials
The reason FASTBRACES® technology delivers quicker results is due to the unique, triangular shape of the brackets, along with a super-elastic, square wire. Together these unique features allow the crown and root of the patients' teeth to realign simultaneously on the first day of treatment. The gentle movement of the whole root mimics natural eruption and can even grow new bone as the dental arch is developed.
The traditional braces system, on the other hand, uses multiple round wires at the beginning of treatment to align the crown portion of the teeth and correct the angulation. It is during this phase of orthodontic movement that bone can be easily destroyed. Then after approximately a year or more, a rather stiff square metal wire is placed to upright the roots to stabilize the position of the teeth after tipping and rotating the crowns. This process adds a year or more to the treatment time and doubles the amount of appointments needed to complete treatment.
FASTBRACES® Is More Comfortable
Since FASTBRACES® works quicker than traditional braces, you might think it would cause patients more discomfort and pain. But the opposite is true.
Whereas traditional braces typically involve some pain and lasting soreness, especially after adjustments are made, FASTBRACES®' innovative design minimizes friction, moves the whole tooth and spreads the orthodontic forces over the entire root surface. This physiologic process mimics natural tooth eruption, bringing the bone along with the tooth, and can even help to grow new bone where there is a deficit.
Older-style braces tend to concentrate the forces in small areas on the root surfaces, which is what leads to pain and bone loss.
Most FASTBRACES® patients experience very little sensitivity or pain even immediately after adjustments.
The FASTBRACES® System Is Less Expensive
Since FASTBRACES® offers quicker treatment times (one-third to one-half the time of traditional braces), FASTBRACES® patients have fewer office visits for checkups and adjustments. And fewer office visits means FASTBRACES® generally costs significantly less than traditional braces.
Contact Us
If you're interested in achieving straighter teeth and a better-aligned smile, please contact the office of Dr. Hatland to speak to a qualified professional and learn more about your treatment options, including FASTBRACES®.