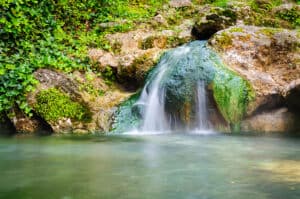 Holistic dentistry takes your whole body and health into account during dental exams and evaluations. This alternative approach to dental care involves only using materials that are non-toxic, which means no mercury fillings or chemicals that may interfere with your wellbeing. Dr. Raymond Hatland believes in the natural approach to holistic dentistry. His ability to think outside the box offers his patients the combined benefit of enhanced dental care and balanced life energy.
How Is Holistic Dentistry Different?
The same core techniques and procedures are used in holistic and traditional dentistry, such as dental exams, porcelain veneers and tooth-colored fillings. However, holistic or biological dentists go through additional training to learn the methods that are biologically compatible. What is biologically compatible? Dr. Hatland makes sure that the materials used in your dentistry treatments are free from toxins and materials that could negatively affect your overall health. Great importance is placed on the substances used to improve, enhance or restore your oral health.
Another way holistic dentistry differs from mainstream dental care is the great effort Dr. Hatland puts into your wellbeing. For example, reducing, limiting or completely eradicating destructive habits can help your whole body by lowering the stress that causes you to grind your teeth.
Dr. Hatland has found the holistic dentistry and dental kinesiology approach especially beneficial to his TMJ patients. Dental kinesiology is a type of dental therapy that uses biofeedback from your body to determine the underlying issues or imbalances that may be causing your oral health concern. Dr. Hatland aims to correct the imbalance, which is often linked to previous injury, nutrition and stress.
The Benefits of Holistic Dentistry
A primary focus of holistic dentistry is the avoidance of toxic materials. Dr. Hatland only uses dental materials that have met or exceeded safety guidelines to safeguard the health of your mouth and body. He only uses mercury-free products and does not recommend fluoride or fluoridated water. He tests for compatibility problems for any restorative or prosthetic materials used and looks for issues with quality to make sure nothing is missed during your treatment.
If you have mercury restorations, Dr. Hatland can remove them. He treats the process like hazardous material, protecting your eyes and airway from exposure to vapors or particles and using plenty of water and strong suction to remove the mercury.
The whole-body approach of holistic dentistry puts your wellbeing at the forefront. It strengthens your overall health through dental hygiene and dental treatments that reinforce your mind and body for the proper flow of life energy (chi).
Request an appointment with Dr. Hatland today to experience holistic dentistry firsthand. You can reach our Chicago office by calling (773) 338-4440 or our Indianapolis office by calling (317) 257-0794.