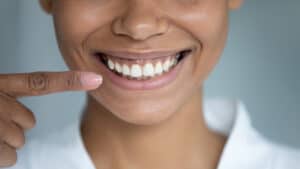 Missing a tooth as an adult can be a source of embarrassment and shame. A dental implant is one option to restore your smile. Another option is a mini dental implant. Mini dental implants can be great for someone wanting to restore their smile without going through an invasive procedure. Dr. Raymond Hatland proudly offers mini dental implants to patients wishing to restore their smile and oral health.
What Are Mini Dental Implants?
A mini dental implant procedure, like a regular implant procedure, involves securing a prosthetic tooth to a post in the mouth. Both procedures result in a lifelike replacement tooth and complete smile. A mini dental implant has a number of benefits that are discussed below.
1. Preserve Your Oral Health
A missing tooth impacts not only your physical appearance but, potentially, your oral health as well. It can cause bone loss in your jaw and can increase the risk of gum disease. A missing tooth can also cause additional problems with the remaining teeth, resulting in crooked teeth and bite issues. As if that isn't enough, it can actually lead to more missing teeth.
Closing the gap using a mini dental implant with a crown can help you avoid these problems. With a mini dental implant, your mouth gets the oral health benefits of having a tooth where one was missing.
2. Saving Time
When compared to a traditional dental implant, the procedure to place a mini dental implant is much faster, saving you valuable time in your busy life. During a traditional dental implant procedure, a titanium post is surgically inserted into your jawbone beneath the gap left by the missing tooth. You then have to wait for your mouth to heal and the post to fuse to your jawbone. The healing and fusion process takes several months. Once your mouth has healed, the prosthetic tooth is then placed on the top of the post.
The procedure to place a mini dental implant is much less invasive because soft tissue surface does NOT have to be surgically lifted to expose the underlying bone. Once the implant is in place, the prosthetic tooth can be attached to the top. The entire procedure can be completed in one office visit. Also, the healing process will take much less time and involve very little if any discomfort compared to the placing of a traditional dental implant. The mini-titanium implant requires a small pilot opening. The implant can be "screwed" directly into the bone and is 50% integrated by the time you leave the dental office. Traditional implants cannot be used for at least 3 to 6 months.
3. Cost Savings
Your oral health is important but so is your budget. The procedure for a mini dental implant is less invasive and requires less time in the office. This means that the procedure is less expensive than a traditional dental implant. This can mean thousands of dollars in savings.
Schedule Your Dental Exam Today
Are you missing a tooth or many teeth? Are you ready to have a beautiful, healthy smile? Schedule a dental exam with Dr. Raymond Hatland today to find out how a mini dental implant can restore your smile and preserve your oral health.
You can reach our Chicago office by calling (773) 338-4440 or our Indianapolis office by calling (317) 257-0794.