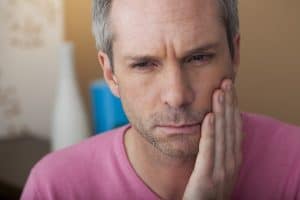 If you are familiar with TMJ disorder, you may be aware that the most commonly reported symptom is pain and soreness of the jaw. However, what you may not know is that the disorder has side effects, many of which can affect your everyday life. Dr. Raymond Hatland, a trusted Chicago and Indianapolis dentist, has treated many patients with TMJ disorder who report various combinations of side effects. Here, he discusses a few of the lesser known effects.
Neck, Shoulder and Back Pain
The jaw muscles are connected to the neck muscles, which hold the spine in alignment. When the jaw muscles are fatigued or overworked, as is the case with TMJ disorder, pain can resonate throughout the head, neck, shoulders and even torso. This in turn can lead to pain or discomfort in the neck, shoulders and back, and even poor posture.
Finger Numbness or Tingling
Jaw misalignment or jaw pain may lead someone with TMJ disorder to compensate by tilting their neck in an unnatural position. This can put extra pressure on the nerves surrounding the neck and may cause numbness or tingling in the arms, hands and fingers.
Sleep Deprivation
Constant jaw pain and soreness can take a toll on your sleep quality. Many patients with TMJ disorder toss and turn at night or wake up repeatedly due to jaw pain or bruxism (clenching of the jaw or grinding of the teeth). Lack of sleep and poor sleep quality can have a myriad of negative effects, including poor cognitive function, irritability, weight gain and even depression.
Difficulty Eating
Many of us take the simple action of eating and chewing for granted. But some individuals with TMJ disorder struggle to enjoy their favorite foods as the disorder makes it difficult or even painful to open the mouth. Even worse, people with TMJ pain may avoid eating, which can lead to nutritional deficiencies, unintentional weight loss and other health problems.
Learn More about TMJ Disorder
Dr. Hatland understands the discomfort and pain that accompany TMJ disorder. He strives to help patients find relief with personalized TMJ treatment, including intra-oral appliance therapy. Depending on your symptoms, he may also recommend other treatments. To learn more about TMJ disorder or the treatment options offered by Dr. Hatland, please schedule an appointment. Contact Dr. Hatland's Chicago office by calling (773) 338-4440 or his Indianapolis office by calling (317) 257-0794.