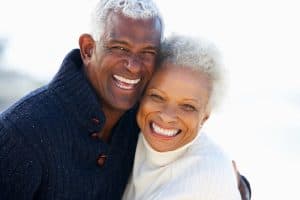 If you are missing teeth, odds are you feel self-conscious every time you smile. That is a shame, because the very act of smiling makes people appear healthier and better-looking.
Dental implants give you a completely natural fit and look, and people will notice your appealing smile. A beautiful smile boosts every aspect of your life.
Dental Implant Advantages
Dental implants provide advantages far beyond the cosmetic. Missing teeth contribute to jawbone deterioration, but replacing these areas with implants helps prevent bone loss.
Tooth loss often results in difficulty eating certain foods. Dental implants allow you to chew naturally, and you can enjoy meals you might previously have avoided. Your natural bite is restored. Missing teeth may also affect speech, so implants allow you to speak more clearly, improving communication with family, friends and co-workers.
Dental implants do not require any special care. You brush and floss them just as you do your natural teeth. Within a short time, they do not feel any different than your other teeth. Unlike dentures, you never have to worry about your implants falling out and causing embarrassment.
Dental implants last a long time. With proper care, dental implants last as long — or longer — than any other form of tooth restoration. For many people, dental implants are the only option for tooth replacement, since bridgework or dentures are not suitable if natural teeth roots no longer exist. They are a wise investment in your future oral health and overall quality of life.
Who Can Benefit from Dental Implants
Anyone with missing teeth can benefit from dental implants, no matter their age or, in most cases, the reasons for the tooth loss.
A complete oral health examination is part of the process for evaluating whether someone is a candidate for dental implants. Those dealing with gum disease require treatment before receiving dental implants. Those dealing with other health-related issues must also recover before dental implant treatment may commence.
Dental Implant Procedure
During the dental implant surgery, metal posts are placed where the tooth roots were located. These posts are now the equivalent of tooth roots for the implants. Since the bone must heal around the implant, it can take between three and six months before the restored teeth are connected to the implant. The doctor can discuss whether you are a candidate for similar procedures, such as mini-implants.
For More Information, Arrange a Consultation
If you would like to learn more about how you can benefit from dental implants, schedule a personal consultation with Dr. Hatland. Contact our Chicago or Indianapolis practice to speak to a member of our team today.