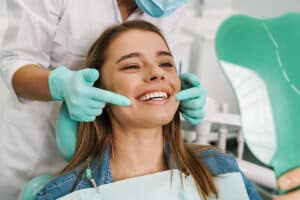 Regular dental cleanings and exams are an important part of maintaining overall dental health. If you have a family, you most likely want to find one dentist who can meet your needs and the needs of everyone in your family. There is no right or wrong way to find such a dentist. Some people ask friends and family for recommendations. Others prefer to use the internet to find a list of potential dental providers. With all of the available options, how do you decide? Here, we discuss how to choose a dentist who meets the dental needs of your entire family.
1. Office Location and Hours
Your family is busy. One of your top considerations when selecting a family dentist should be office location and hours. Choosing a dentist who is located close to your house or where your kids go to school can make the whole experience easier.
Dr. Raymond Hatland offers family dental services at two locations for your convenience. His clinic hours extend into the evening and even include times on the weekend. This ensures that he can meet the needs and schedules of all of his patients.
2. Credentials and Experience
When you are selecting a dentist for your family, you want someone who is a trained and experienced professional. Many dentists include their education, experience and training on their website. You can also ask the dentist about their credentials and experience over the phone or during a consultation.
Dr. Hatland graduated as a top-ranked student from the University of Illinois School of Dentistry. He started his dental career by taking a one-year rotating dental internship in all of the dental specialties taught by top specialists. Since then, he has accumulated decades of experience and has completed thousands of hours of professional dental education. He is also an active member of the Holistic Dental Association and the American Dental Association.
3. Services Offered
Dentists have different specialties and offer different services. You are going to want to find a dentist who offers dental services for patients of all ages. You may also want to find a dentist who offers a variety of dental services. This ensures that your family only has to go to one office to meet most or all of your dental needs.
Dr. Hatland is a family dentist. He provides quality dental care for patients of every age. His services include general dentistry, cosmetic dentistry, restorative dentistry, Fastbraces, orthodontics, implants, treatment for TMJ disorders, reversing gum disease and dentures and bridges.
Schedule Your Family's Appointments Today
The best way to determine whether a dentist is right for you and your family is to schedule an appointment with the dentist. Dr. Raymond Hatland is confident he can meet the dental needs of you and your family. Schedule your appointment today.
You can reach our Chicago office by calling (773) 338-4440 or our Indianapolis office by calling (317) 257-0794.