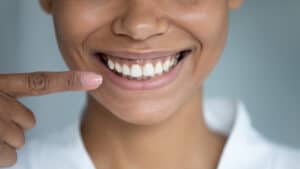 Most people want a straighter smile but don't have the patience for traditional braces. FastBraces® is a unique orthodontic solution for people looking to correct overcrowded, crooked or gapped teeth with less time commitment. Dr. Raymond Hatland offers this innovative smile solution to his patients in Chicago, providing the same results as traditional orthodontics with a faster and less expensive treatment option.
How Do FastBraces® Orthodontics Work?
Traditional metal braces use square brackets that move the tooth root and crown of the tooth separately. FastBraces® feature triangular brackets that push the root and crown to move at the same time, for straighter teeth in less time. The triangular brackets leave more space between them, giving more flexibility for the wires.
The length of treatment for FastBraces® varies by patient but could be as few as 100 days, addressing gaps, overbites, underbites and other misalignment concerns. Traditional braces require treatment for an average of 18 to 24 months, and FastBraces® can improve your smile in mere months instead of years.
What Are the Benefits of FastBraces® Orthodontics?
The duration of treatment is the most notable benefit of FastBraces®, but this quick orthodontic treatment also entails fewer visits to the dentist. While traditional braces need tightening and the wires are replaced throughout treatment, FastBraces® starts out with its unique finishing wire. There's less maintenance overall for FastBraces®.
Patients with FastBraces® report less discomfort with this treatment, which could be because of the triangular brackets and its patented highly flexible, square wire causing less tooth sensitivity than ordinary braces by decreasing friction. Brackets for FastBraces® can be clear and less noticeable so that you can straighten your teeth without a mouth full of visible wires. There is far less pain moving teeth the FastBraces® way because the orthodontics forces are distributed over the entire root surfaces not concentrated on one small area of the roots causing bone destruction and painful teeth. The movement of the teeth is more like a naturally guided eruption process.
FastBraces® cost up to 60 percent less than traditional options and improve dental hygiene by reducing total treatment time.
People of all ages may qualify for FastBraces® if they have crooked teeth, tooth gaps, malocclusion (bite concerns) or overcrowded teeth. However, issues with the temporomandibular joints on either side of the jaw and severe overcrowding require more extensive orthodontic treatment.
Why Choose Dr. Hatland for FastBraces®?
Dr. Hatland graduated in the top 15% of his class at the University of Illinois School of Dentistry and went on to an internship at Ireland Army Hospitals in Fort Knox, Kentucky. He learned from some of the top specialists in the country about dental solutions for oral surgery, periodontics, endodontics, orthodontics and prosthodontics and went on to spend three years in the army as the only dentist at his station in Tokyo, Japan. Dr. Hatland has honed his dentistry skills in many areas and incorporates a whole-body approach to dentistry, saving his patients time and money by improving their oral health while incorporating their overall well-being.
If you're interested in FastBraces®, contact Dr. Hatland in Chicago, Illinois, at (773) 338-4440.