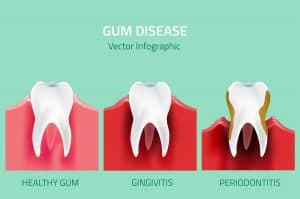 Approximately half of all Americans age 30 and older have some form of gum disease. A growing body of research shows that these individuals have a higher risk of certain systemic diseases. As a holistic dentist, Dr. Raymond Hatland takes the connection between mouth and body seriously, and helps patients boost their quality of life through good oral health.
Here, he discusses five health conditions linked to gum disease.
Diabetes
Diabetics are more likely to develop gum disease than non-diabetics. This may be because diabetics are more susceptible to contracting infections, and gum disease is caused by an oral infection. What's more, research shows that advanced stages of gum disease can increase blood sugar, putting diabetics at a higher risk for health complications.
Heart Disease
People with gum disease have an increased risk of heart disease. While the link is not quite clear, scientists believe that inflammation as a result of gum disease may be responsible for the association. In addition, gum disease can also worsen existing heart conditions and individuals at risk of infective endocarditis may require antibiotics prior to certain dental procedures.
Stroke
A link between gum disease and stroke has also been found. According to one study, people with acute cerebrovascular ischemia are more likely to have an oral infection than those without the condition.
Respiratory Disease
Studies have found that bacteria that grow in the oral cavity can be aspirated into the lungs, possibly leading to respiratory diseases such as pneumonia. This risk is higher among people with gum disease.
Cancer
People with gum disease have a higher risk of certain cancers, including kidney cancer, pancreatic cancer and blood cancers.
A Healthier Mouth and Body with Dr. Hatland
Dr. Hatland has helped many patients prevent and treat gum disease. Through his many years of practice, Dr. Hatland has developed a unique treatment program that can effectively reverse gum disease without surgery. This program, called the Reverse Gum Disease Program, involves minimizing enlarged periodontal pockets, a major symptom of gum disease. Through this program, patients, including those with advanced stages of gum disease, have achieved successful results.
To learn more about the effects of gum disease and how to treat it, schedule a consultation with Dr. Hatland. Contact his Chicago office by calling (773) 338-4440 or his Indianapolis office by calling (317) 257-0794.