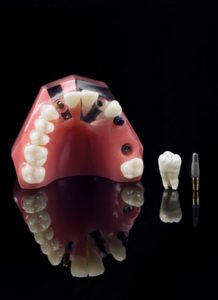 If you need to replace one or several missing teeth, you have several options to choose from, including dental implants. A dental implant consists of an artificial tooth root that is inserted into the jawbone and a replacement tooth that sits on top of the gum line. Many dentists consider dental implants the most long-lasting solution for missing teeth.
If you are thinking about replacing a missing tooth with a dental implant, read on as Dr. Raymond Hatland answers frequently asked questions about the dental restoration.
What are dental implants made of?
Dental implants consist of three parts: a titanium post that is surgically placed into the jawbone, a dental restoration or artificial tooth, and an abutment piece that connects the two pieces together.
What are the types of dental implants?
There are three types of dental implants:
A single-tooth dental implant consists of an implant post that anchors a dental crown. This replaces a single missing tooth.
An implant-supported bridge replaces several teeth. It can replace all missing teeth and replaces some of the missing tooth roots. Unlike traditional dental bridges, implant-supported bridges do not rely on the surrounding teeth for support.
Implant-supported dentures replace an entire arch of teeth in the lower or upper jaw. The denture appliance is attached to several implant posts (typically between four to eight posts). Implant-supported dentures can only be removed by a dentist.
How long does the process of placing dental implants take?
The entire process of placing dental implants takes several months to complete. Most dental implant patients will need two dental appointments. During the first, the implant post will be placed into the jawbone during an oral surgery procedure. In order for the post to provide a stable foundation for the replacement tooth, it must integrate with the surrounding jawbone. This process, called osseointegration, takes three to six months, after which the patient will return to the dentist's office so they can receive their artificial tooth.
Does treatment hurt?
Anesthesia is used to numb the gums so treatment does not hurt.
How long do dental implants last?
Implants are strong and durable. With proper care and maintenance, they can last a lifetime.
To learn more about dental implants, schedule a consultation with Dr. Hatland. Contact his Chicago office by calling (773) 338-4440 or his Indianapolis office by calling (317) 257-0794.