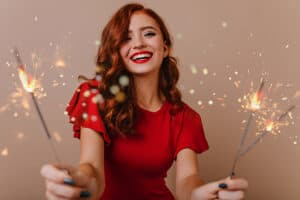 We're nearing the season for gift giving and gathering with friends and family to celebrate the holidays with good food and smiles. However, people who are unhappy with the appearance of tooth flaws may dread taking the annual family photo or shy away from a group photo or candid photos during get-togethers. Some may hide behind pursed lips in the background to avoid revealing tooth chips, discoloration and other unsightly imperfections.
Dr. Raymond Hatland has extensive experience and skill in providing cosmetic and restorative dentistry services in the Chicago areas. He can help you determine the best procedure or treatment to reach your smile goals in time for a special event or the holiday season so you can grin with pride and show off your beautiful results.
How Cosmetic Dentistry Can Improve Tooth Flaws
Cosmetic dentistry procedures are often combined to address several tooth imperfections at once. Many of Dr. Hatland's patients choose to have teeth whitening before porcelain veneers, dental crowns or other procedures for a brighter smile in addition to addressing tooth flaws. Our offices offer these options:
Dental Crowns
Dental crowns are caps placed over severely damaged or misshapen teeth. These are used for cosmetic and functional purposes and are made with porcelain or ceramic materials that closely match the natural sheen of existing teeth. The dental crown process takes two visits with Dr. Hatland to prepare the tooth and place a temporary crown while a lab creates the permanent cap. Dental crowns are designed to fit seamlessly with surrounding teeth.
Porcelain Veneers
Porcelain veneers also require two separate visits for placement. These thin shells cover the front of a chipped, cracked, severely discolored or otherwise flawed tooth for cosmetic reasons. They are meant to match the size, shape and color of adjacent teeth and are an excellent way to renew a smile. These prosthetics are attached to one or more teeth after the tooth enamel is reduced to accommodate the shell.
Teeth Whitening
Dr. Hatland offers in-office teeth whitening services and at-home whitening kits. Both options can brighten your smile by several shades. Treatments in one of our offices can provide a visibly whiter smile in under an hour, while at-home trays take several days for noticeable results. The right method for your needs depends on your smile goals and whether you wish to have a brighter smile for an upcoming event.
Tooth-Colored Fillings and Dental Bonding
Tooth-colored fillings are the best option to fill existing cavities or replace old metal (amalgam) fillings to prevent a metallic glimmer in your family holiday photos. Dental bonding addresses minor cosmetic flaws, such as chips and cracks.
Dr. Hatland can discuss your cosmetic dentistry options for your specific needs during your dental exam and consultation. Depending on your timeline and the extent of tooth flaws, you could have a more beautiful smile in time for the holidays.
Schedule your dental exam with Dr. Hatland in Chicago, Illinois, at (773) 338-4440.