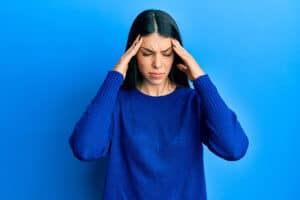 June is National Migraine & Headache Awareness Month. It's a time to raise awareness about migraines and other headache diseases. Persistent head pain can interfere with your overall health and quality of life. In most situations, relief can only come from identifying and treating the cause of the pain.
In many cases, the cause of the migraine or headache is actually a temporomandibular joint disorder (TMJ disorder). A TMJ disorder is a condition often caused by a bite discrepancy or misalignment of the jaw that is exacerbated by unconscious oral habits or clenching (holding your teeth together) or bruxing (grinding). Keep reading for the top signs that your migraines or headaches are related to TMJ disorder.
You Experience Other Symptoms of TMJ Disorder
TMJ disorder often results in a number of symptoms, including headaches. If you experience any of the following symptoms, then TMJ disorder may be contributing to your headaches:
Chronic excessive stress and tension
Swollen or tense jaw muscles
Waking up with jaw pain or stiffness
Tooth damage or wear
Clicking or popping sounds when you open or close your jaw
Chronic neck, shoulder or back tension
Ear issues
Vertigo or dizziness
Holding your teeth together (clenching) and bruxing (grinding) your teeth during the day and/or night
Jaw Activity Leads to Migraines
Your jaw plays an important role in functions of everyday life. However, some days your jaw is busier than others. If you notice that your migraines occur after a lot of jaw activity, then a TMJ disorder may be the cause. Jaw activity can include a lot of talking, chewing tough food or having your mouth open for an extended period of time.
Your Current Treatments Are Not Working
Sometimes the best way to figure out the cause of headaches is to eliminate other causes. If your doctor is currently treating your headaches, but the treatment isn't working, then your headaches may have an underlying cause that your doctor hasn't diagnosed.
TMJ disorders and migraines can go hand in hand. Having a TMJ disorder increases the likelihood that you will suffer from migraines and can increase the frequency of migraines. Unfortunately, a TMJ disorder is often overlooked during the initial diagnosis and treatment of migraines.
How Can Holistic Dentistry Help?
Dr. Raymond Hatland practices holistic dentistry. This approach to dentistry takes your whole body and health into account during your dental treatment.
TMJ disorders can wreak havoc on your health and wellbeing. Instead of simply treating symptoms like migraines and headaches, Dr. Hatland focuses on the underlying cause to improve your entire wellbeing.
One method of dentistry that Dr. Hatland uses in his holistic approach is dental kinesiology. Dental kinesiology relies on your body's biofeedback to identify underlying causes of your TMJ disorder. Once he knows what is contributing to your TMJ disorder, he can focus on your body's needs to correct the imbalance.
Schedule an Appointment with Dr. Hatland Today
You don't have to live with migraines or headaches. Schedule an appointment with Dr. Hatland today to learn how holistic dentistry can help relieve your symptoms.
You can reach our Chicago office by calling (773) 338-4440 or our Indianapolis office by calling (317) 257-0794.