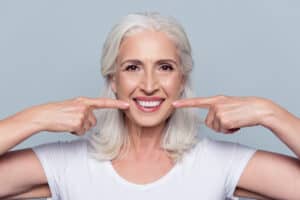 Missing teeth are more than an eyesore. Those gaps left behind cause severe problems for your oral health and make you more likely to lose additional teeth. Dental implants are an excellent way to restore a complete set of teeth and a healthy mouth. These artificial tooth roots strengthen your jawbone and hold a prosthetic tooth (dental crown) or a bridge of artificial teeth in place. They can help you after tooth loss from disease or injury so you can avoid the hassles of dentures.
Dr. Hatland can walk you through the dental implant process and help you decide whether traditional implants or mini dental implants are right for you. These versatile restorative options can replace one tooth, multiple missing teeth or an entire arch of teeth using several implanted posts.
Step 1: Your Oral Health Assessment
Our skilled implant dentist will evaluate your oral health and the tissues in your mouth. He will determine if you have enough healthy bone material in your jaw to support the dental implant and go over your restorative dentistry choices, such as implant-supported dentures for multiple missing teeth. If you don't have sufficient bone quality, a bone graft may be necessary before proceeding to the next step.
Up to 25 percent of your jawbone resorbs in the first year after you lose a tooth. A bone graft may use bone tissue taken from another area of your jaw, a donor body, animal tissue or synthetic material to create a scaffold for your jawbone to rebuild. Dr. Hatland may recommend a bone graft or sinus lift.
Step 2: Implanting the Post
There are two types of dental implants: endosteal, which are screws, blades or cylinders surgically placed into the bone, and subperiosteal, which use a metal framework that reaches through the gums to secure the implant in place. The latter is typically used for people with poor bone height and density. A single implant takes around one hour to place, in a single appointment.
One implant supports a single crown, but two or more are used for an implant-supported bridge or four for implant-supported dentures.
Step 3: Healing
You will spend three to six months healing after the posts are surgically implanted into your jawbone if you have traditional dental implants. That gives your body time for osseointegration, where the posts fuse with the surrounding bone material. If you opt for mini-implants, which are more affordable, you will not have to wait to heal. With mini-dental implants, Dr. Hatland uses an innovative, non-surgical approach for same-day restorations.
Step 4: The Abutment and Artificial Tooth
Once your jawbone has fused with the implanted post, abutment pieces are attached to connect the base with the dental crown for traditional dental implants. You can enjoy a full set of teeth and flash your new smile to friends and family.
Contact Dr. Hatland in Chicago About Dental Implants
If you are missing one or more teeth, Dr. Hatland can restore your smile using his extensive experience and holistic approach with dental implants.
To request an appointment with Dr. Hatland, please contact our practice today. You can reach our Chicago office by calling (773) 338-4440 or our Indianapolis office by calling (317) 257-0794.