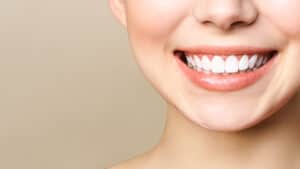 Unsightly tooth imperfections can cause you to go through your work and social life with a tight-lipped smile. Tooth chips, cracks and stains can be embarrassing, making you shy away from specific engagements and avoid smiling in photos. Several cosmetic dentistry options can address your tooth flaws and restore a beautiful smile. Dr. Raymond Hatland offers dental crowns, porcelain veneers, teeth whitening and other methods to improve the aesthetic appeal of your teeth with a holistic approach.
1. Porcelain Veneers
Porcelain veneers are one of the most popular options for improving tooth chips and severe discoloration. These thin shells cover the front portion of your damaged tooth or teeth and are customized to match the shade and shape of the surrounding teeth. They mimic the natural sheen of your tooth enamel. This cosmetic dentistry option can address tooth chips, cracks, misshapen teeth, gaps or overcrowded teeth.
Dr. Hatland takes a holistic approach to dentistry, so your porcelain veneers are made from non-toxic materials that are biologically compatible. The veneer process requires minimal shaving of your natural tooth enamel to accommodate the wafer-thin shell.
2. Teeth Whitening
Teeth whitening is a non-invasive way of improving the overall appearance of your teeth, so you're proud to flash your pearly whites in the office and at social gatherings. Whitening treatments can be done in our offices with professional-grade bleaching agents, or you can brighten your teeth at home with our customized at-home whitening kits that are molded to your teeth. Teeth whitening can effectively improve tooth discoloration, but some tooth stains won't respond to treatments, including intrinsic tooth stains.
Intrinsic tooth stains are deep discoloration on the inner tooth layer called dentin. They may be caused by genetics, certain medications or other factors, but these are permanent and won't respond to teeth whitening. Porcelain veneers, dental crowns, dental bonding or other cosmetic dentistry methods can address intrinsic tooth staining.
3. Dental Crowns
Dental crowns can serve a restorative or cosmetic role in your dental care. These caps typically strengthen and preserve a damaged or weakened tooth and cover tooth imperfections. Dental crowns require more natural tooth removal and are more invasive than porcelain veneers. If your tooth chips or cracks compromise the tooth's integrity, Dr. Hatland may improve the tooth's appearance and restore function with a dental crown.
During your dental exam, Dr. Hatland will discuss your cosmetic dentistry options and the best way to give you a bright and perfect smile. If you struggle with unsightly tooth imperfections, request an appointment with Dr. Hatland today.
You can reach our Chicago office by calling (773) 338-4440 or our Indianapolis office by calling (317) 257-0794.